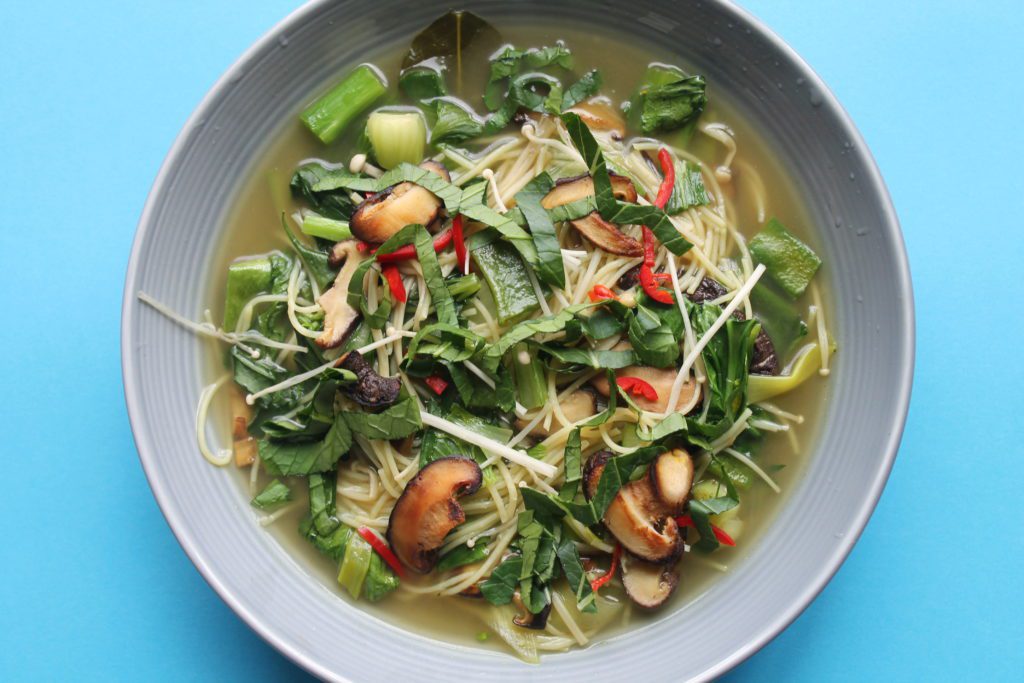 A Vegan Asian Style Vegetable Packed Soup
This is a simple, fast and outstanding broth using no store-bought stocks/cubes and fresh ingredients that will make your toes curl. Looking for a perfect vegan soup to share with friends, this is the beast.
I was inspired to make a broth such as this one (as I do on a regular basis) by an encounter I had with an old woman in Vietnam who made a similar dish on the side of the street.
Some broth, some veg, some noodles. That was it. And for 15 years, I never forgot it.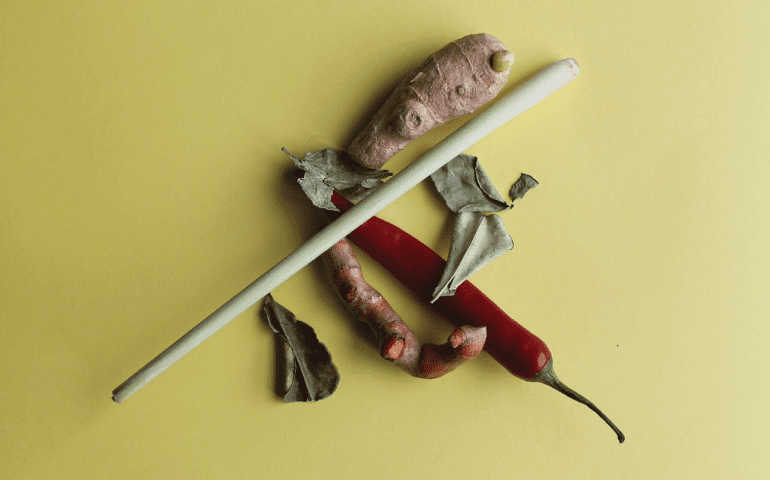 Make this in any season of the year. It is full of so much goodness and flavor. Using some fresh turmeric gives it a beautiful subtle flavor as well as adding strong health benefits.
If you can source local wild mushrooms you can truly enhance the flavor to superstar status. Try it. Let me know in the comment how you got on or any improvements you made. Happy munching.
Rice Spaghetti Green Vegetable Broth
This vegan recipe has no crap in it. Choose your soy sauce wisely. I use rice noodle because they are lovely and light but you can use any noodles you like. And like all my recipes, you can omit anything you do not like and replace with what you do.

Ingredients
FOR THE STOCK

1

Small

white onion

2

Lemongrass stalks

1

Large

piece of ginger

1

red chili

1

Large

piece of turmeric

6

cloves

10

dried kaffir lime leaves

2

ltrs

hot water

Sea salt to taste

FOR THE BROTH

1

tbsp

sesame oil

4

small pak choi

120

g

shitake mushrooms

100

g

enoki mushrooms

200

g

fresh green peas

1

bunch choi sum

1

pkt beansprouts

1

bunch Chinese broccoli

4

lime leaves

180

g

rice spaghetti (or noodles of choice)

1

lime

Soy sauce of your choice
Method
To make the stock. Use a medium size pot. Add the water and begin to heat.


In the meantime, chop the white onion and lemongrass. Keep half of the chopped white onion back for your broth. Add to the pot.


Slice the ginger thinly and add half to this stock. Chop the turmeric and add too. No need to peel these.


Half the chili lengthways. Roughly chop one half and along with the lime leaves, cloves, add to the pot.


Simmer for around 20-25 minutes. Taste and season.

To make the broth. In a large pot, add a little sesame oil

Slice the shitake mushrooms and chili, add to the pot with the remaining white onion and ginger. Stirring until the mushrooms have softened and lightly colored.

When you are happy with the flavor of your stock, pass it through a strainer. Pour into the pot with the mushrooms.

Simmering, add the rice spaghetti, stir them until they separate.

Trim the bottom of the enoki mushrooms and add along with the lime leaves.

Roughly chop the pak choi, green beans, choi sum and broccoli.

When your noodles are cooked, add the green vegetables, stir well into the pot and take off the heat. Leave to the side for 5 minutes then serve.

Garnish with bean sprouts and a wedge of lime. Use as much soy sauce as you like to your dish.
Recipe Notes
Get into a habit of creating health broths like this, make extra so you can have it the next day too. It is always so damn good the following day.
Do share and leave a comment. Enjoy