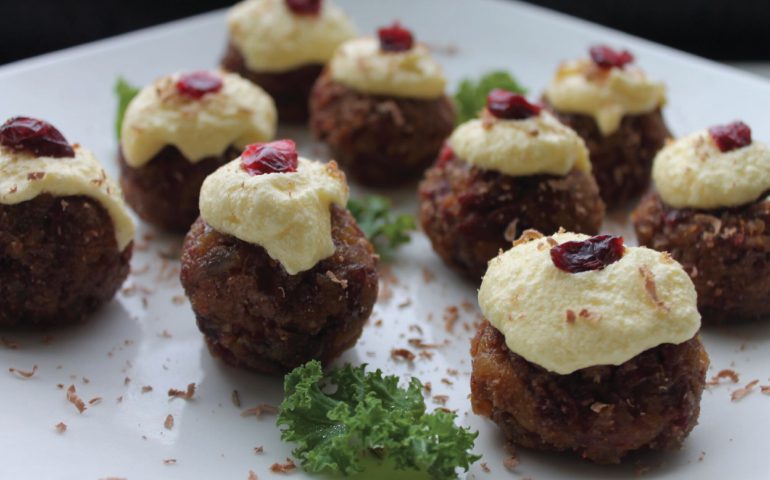 Yep, and just like the title of this post, this recipe is a mouthful, A Christmas Pudding mouthful. This after dinner dessert is a huge divider among people. It is equally hated and loved (I personally do not mind it) and causes much debate around this time of year.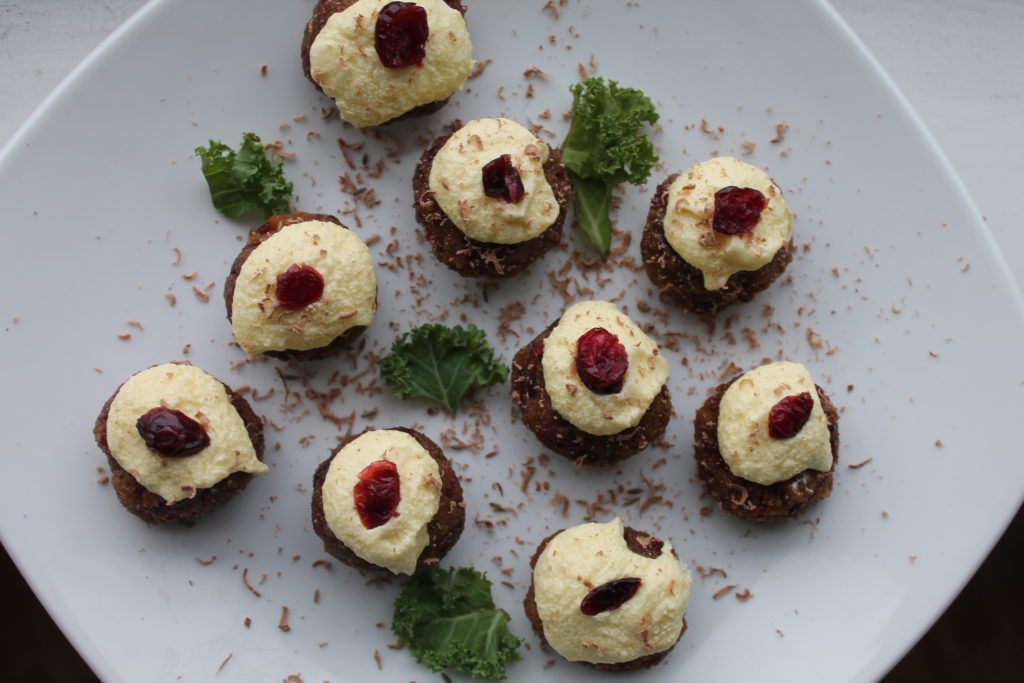 You usually begin making this pudding around September or October to allow the high level of alcohol and fruit develop flavours. But today I am going to share a quick recipe that will allow you to create a mini bite-sized pudding that is dairy free and gluten free, small and perfect for after a big Christmas dinner.
Dairy and Gluten Free No-Cook Alternative Mini Christmas Pudding
Traditionally a boiled pudding with fruit, eggs and suet; a collaboration of ingredients not to tempt the tongue, its has origins from medieval times and to some should have remained there. with this recipe there is no cooking involved.

Ingredients
100

g

dried prunes or dates

130

g

dried apricots

100

g

dried cranberries

50

g

ground almonds

120

ml

brandy or whiskey of choice

(alternatively almond, hazelnut or coconut milk)

1

lime

1

orange

70

g

vegan dark chocolate

2

tsp

Neal's Yard Sweet Mixed Spices

(or 1 tsp of each nutmeg and cinnamon)

FOR THE ICING

150

g

icing sugar

30

g

vegan butter

1

small piece of ginger

1/4

wedge

juice of grated orange
Method
In a small pot, add 100ml of the alcohol, the apricots and cranberries. Bring to a boil and simmer for no more than one minute. Stir once or twice. Take off and leave to cool, letting the alcohol soak into the fruit.

Grate the skin of both the orange and lime. Juice both and keep separate.


In a food mixer, add the dates or prunes, spice mix, grated lime and orange, ground almond and lime juice.


Add the remaining 20ml of alcohol and the fruit and juice in the pot to the mixer.

Blend together until you get a dough like consistency.

Roughly break up the chocolate with a knife. Add to the mix and blend again for another 10 seconds.

Place mix in a bowl. If you are happy with the taste of the mix, using your fingers, take a piece of the mix and roll into 'two-bites' size balls or one bite size if you are making these for a large party. Place them on a plate or tray.


Place in the fridge while you make the icing.

Either using a mixer to whip or using your hand (I used a bowl and a whisk) Add your butter, a grated piece of ginger, the juice of a small wedge of orange, a dash of alcohol and whisk together.

Add in the icing sugar in stages until it becomes smooth and creamy.

Take out your balls from the fridge (queue the laughing) and add a small amount of the icing on top. Place back in the fridge for 5 minutes. Decorate as you please.

Serve after dinner. These can last up to a week in the fridge.

Recipe Notes
These are such a delicious little treat, a perfect dessert. You do not have to be a fan of Christmas Pudding or Plum Pudding to enjoy this recipe.
If you have a dinner party coming up, trust me, these will go down a treat. Let me know in the comments if you would try these and your thoughts of the infamous Christmas Pudding.
Happy Eating