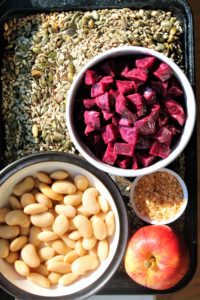 A while back a personal chef was a luxury for people with plenty of money and no time or interest in cooking. And some cooks and chefs made a ton of money capitalizing on this need.
Nowadays, personal chefs are in demand with basically people with needs; working families with no time to think about healthy cooking, new parents, people with dietary requirements, people in sport, people wanting to learn some cooking skills. The list in endless and if you are a skilled cook, now is a great time to set yourself up and find your market.
After over 20 years of cheffing worldwide, I became a freelance cook over two years ago working everywhere and anywhere on my own time and choosing who I wanted to work for. This has lead to an interest and then a dip into the personal chef world which is so much fun and challenging.
And now, as I become a vegan (bit by bit) and dive into the vegan personal chef world, I am developing a new business, more cooking skills and techniques, new ways of thinking about food, a healthier approach and this is and will rub off my clientele who have a similar interest in eating healthier.
But What is a Personal Chef?
Basically, a chef/cook you hire to help you with a cooking or nutrition problem. A personal chef like myself will come to your home to prepare out-of-this-world meals for you to eat at your leisure.
I would meet you and we would discuss your wants and needs, create a menu of your needs, whether you have specific dietary requirements or just want a fridge full of healthy meals for the week.
Then on a selected cook date, I'll do all the grocery shopping using only the best and freshest ingredients and come to your home (you can or do not need to be there) and prepare the desired menu for you.
Your meals will be created, packaged, labelled and placed in the fridge and freezer to be eating at your convenience. Your kitchen will be left spick and span, just the way I found it and a delicious aroma of healthy foods will linger.
That is the basic gist of a personal chef. It's a great feeling being able to help someone or a family eat healthier and improve their lifestyle.
Also as a personal chef I am able to do cooking classes or one to one coaching. This is exciting. Been able to hang out with someone or a group, have fun, educate with new cooking techniques and recipes is a huge energy buzz.
Having a client with a specific diet problem, sitting down with them, listening to their needs, creating a menu for them and coming to their home and helping them cook with the right foods is highly fulfilling.
As a personal chef I hope to grow a business including many shared recipes on Odes of Food as well as creating many recipe books and food articles along the way as I do write at This is Galway website.
If you do need a personal chef or have any questions do not hesitate to contact me and have a chat.
Save
Save
Save
Save
Save
Save
Save
Save