I get up early and ravished with hunger. During the week I mix up my breakfasts from toast and avocado to fruit and soya yogurt but most days it is porridge I will eat.
Now let's be honest. Like a lot of you I'm sure, after a while, porridge becomes goddamn boring and hard to get in the mood for. So this is why it is important to shake it up and mix it with everything possibly yummy.
I've made many many different types of porridge but this beaut is by far my favourite and it will give you that kick up the butt morning style some of us need.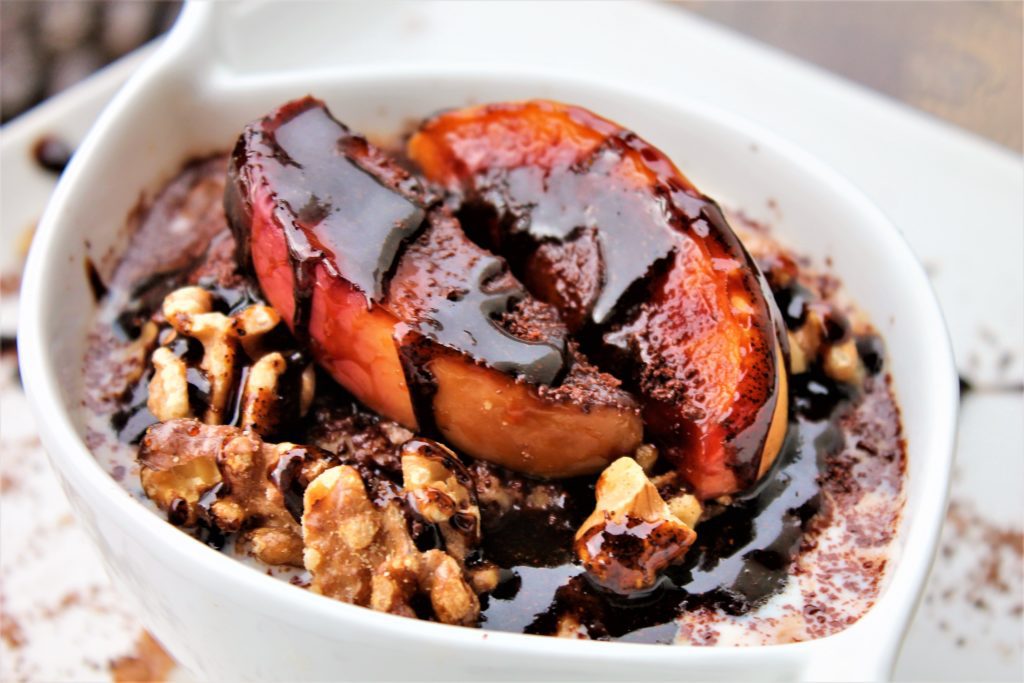 This recipe is very simple. It can, like most overnight soaked oats, be prepared the night before but also first thing in the morning. It's quick and easy and damn tasty.
I use organic honey and locally roasted coffee beans. I also have a coffee grinder but using grounded coffee is fine. Also, the chocolate I usually use is vegan chocolate, it's so good and to make this dish totally vegan just switch the honey to real maple syrup. The roasted walnuts and apples will add a beautiful smokiness to this brekkie, so good you pants may fall down with delight.
I first created this recipe for the website I write for, This is Galway and it went down a treat. Let me know in the comments if your try this and if your pants stayed on.
Coffee Infused Honey, Dark Chocolate, Apple and Walnut Porridge
Yep, I eat a lot of porridge and this concoction blasts me through the morning until evening.

And remember, these weights below are just a guide, it's porridge, your brekkie, you do not really have to weight it out just guess 🙂

Ingredients
250

ml

hazelnut, coconut or almond milk

30

g

dark chocolate

60

g

rolled oats

20

coffee beans or 3 teaspoons of ground coffee

70

ml

honey

20

g

walnuts

1

apple

(I used a pink lady)
Method
Soak the oats over night in 200 ml of the milk of choice along with 20g of grated chocolate. (Optional, you can just go ahead and do this first thing in the morning)

Turn your oven to 180c and roast the walnuts for 5 minutes. Leave to cool on the side.

Cut the apple in half, take out the core, cut each half into 4 segments.

In a pan, add 1 large tablespoon of honey and turn on to a medium heat.

Place the apple in honey and pan fry each side until the apple is soft (takes about 5 minutes.)

Take out the apples from the pan and leave to the side.

Add in the rest of the honey and turn to a low heat.

Grind your beans and add to the honey (if using ground coffee add in as is)

Leave on a low heat until the honey is liquid and the coffee dissolved and cooked through.

In the meantime, cook your soaked porridge on a low medium heat for around 4-5 minutes, simmering, stirring regularly. Add the extra 50ml of milk to make it creamy.

Pour into a bowl, grate the rest of the chocolate over, add the apple and walnuts pour 2 table spoons of the honey mix over too (you will have some mix left for porridge on other days, store in a jar)…go mad for the day.
Recipe Notes
Tip: Soaking the oats over night makes it quicker in the morning. Also add any fruit you like, extra berries, fried bananas etc. For that extra goodness add some protein powder as I do.
Save